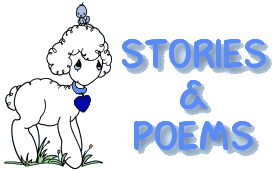 Mathias
The whisper of your baby breath now still.
Your pilgrimage to earth so brief and tenuous, so pain filled.
Thank you Mathias for coming.
Like a heartbeat, the time you shared with us here.
The avalanche of love took us by surprise and bared our souls.
Thank you Mathias.
The blink of eternity in your baby smile will draw us ever nearer heaven.
And when you've waited there awhile.
We'll come to you, Mathias.
Kim Muirhead (Mathias' Great-Aunt)

IF ONLY YOU COULD SEE
I know you're feeling sad today because I had to go.
I know you have so many things that remind you of me so.
And though you cry as you recall the times you spent with me,
I know your pain would turn to joy if only you could see
I'm in Heaven with Jesus now
We laugh, we sing, we play.
He holds me gently in His arms
I know no pain today.
And though we're apart a little while, Jesus has promised me,
He'll someday bring you here where we'll live for eternity.
Author unknown

To All Parents
"I'll lend you for a little time,
a child of mine."He said.
"For you to love while he lives,
and mourn for when he's dead.
It may be six or seven years...
or twenty-two or three.
But will you, 'til I call him back,
take care of him for me?
He'll bring his charms to gladden you
and should his stay be brief,
You'll have his lovely memories
as solace for your grief.
I cannot promise he will stay,
since all from earth return.
But there are lessons taught down there
I want this child to learn.
I've looked the wide world over
in my search for teachers true.
And from the throngs that crowd life's loves,
I have selected you.
Now will you give him all your love,
nor think the labor vain
Nor hate me when I come to call
to take him back again?
I fancied that I heard them say,
"Dear Lord, Thy will be done.
For all the joy Thy child shall bring,
the risk of grief we'll run."
We'll shelter him with tenderness.
We'll love him while we may.
But should the angels call for him
much sooner than we'd planned
We'll brave the bitter grief that comes
and try to understand.
Author Unknown

Remembering
Go ahead and mention my child,
The one who died you know.
Don't worry about hurting me further
The depth of my pain doesn't show
Don't worry about making me cry.
I'm already crying inside.
Help me to heal by releasing
The tears that I try to hide.
I'm hurting when you just keep silent,
Pretending he didn't exist.
I'd rather you mention my child,
Knowing that he has been missed.
You asked me how I was doing.
I say "pretty good" or "fine."
But healing is something ongoing.
I feel it will take a lifetime.
by Elizabeth Dent

Please See Through My Tears
"You asked, "How are you doing?"
As I told you, tears came to my eyes....and you looked
away and quickly began to talk again.
All the attention you had given me drained away.
"How am I doing?" ....I do better when people listen,
though I may shed a tear or two.
This pain is indescribable. If you've never known it, you
cannot fully understand.Yet I need you.
When you look away,
When I'm ignored,
I am again alone with it.
Your attention means more than you can ever know.
Really, tears are not a bad sign, you know!
They're nature's way of helping me heal...
They relieve some of the stress of sadness.
I know you fear that asking how I'm doing brings me sadness
........but you're wrong
The memory of my loved one's death will always be with me,
Only a thought away.
My tears make my pain more visible to you, but you did not
give me the pain.........it was already there.
When I cry, could it be that you feel helpless,
not knowing what to do?
You are not helpless,
And you don't need to do a thing but be there.
When I feel your permission to allow my tears to flow,
you've helped me.
You need not speak. Your silence as I cry is all I need.
Be patient.....do not fear.
Listening with your heart to "how I am doing"
relieves the pain,
for when the tears can freely come and go, I feel lighter.
Talking to you releases what I've been wanting to say aloud,
clearing space for a touch of joy in my life.
I'll cry fo a minute or two...
and then I'll wipe my eyes,
and sometimes you'll even find I'm laughing later.
When I hold back the tears, my throat grows tight,
my chest aches, my stomach knots...
because I'm trying to protect you from my tears.
Then we both hurt....me, because my pain is held inside,
a shield against our closeness......and you,
because suddenly we're distant.
So please, take my hand and see me through my tears...
then we can be close again."
From: What Can I Say? by Kelly Osmont

Like any good mother, when Karen found out that another baby was on the way, she did what she could to help her 3-year-old son, Michael, prepare for a new sibling. They found out that the new baby was going to be a girl, and day after day, night after night, Michael sang to his sister in Mommy's tummy.
He was building a bond of love with his little sister before he even met her. The pregnancy progressed normally for Karen, an active member of the Panther Creek United Methodist Church in Morristown,Tennessee.
In time, the labor pains came. Soon it was every five minutes, every three ...every minute. But serious complications arose during delivery and Karen found herself in hours of labor. Would a C-section be required? Finally, after a long struggle, Michael's little sister was born.
But she was in very serious condition. With a siren howlig in the night, the ambulance rushed the infant to the neonatal intensive care unit at St. Mary's Hospital, Knoxville, Tennessee.
The days inched by. The little girl got worse. The pediatrician had to tell the parents,"There is very little hope. Be prepared for the worst." Karen and her husband contacted a local cemetery about a burial plot. They had fixed up a special room in their house for their new baby but now they found themselves having to plan for a funeral. Michael, however, kept begging his parents to let him see his sister. "I want to sing to her," he kept saying. Week two in intensive care looked as if a funeral would come before the week was over.
Michael kept nagging about singing to his sister, but kids are never allowed in Intensive Care. Karen made up her mind, though. She would take Michael whether they liked it or not! If he didn't see his sister right then, he may never see her alive. She dressed him in an oversized scrub suit and marched him into ICU. He looked like a walking laundry basket. But the head nurse recognized him as a child and bellowed, "Get that kid out of here now! No children are allowed." The mother rose up strong in Karen, and the usually mild-mannered lady glared steel-eyed right into the head nurse's face,her lips a firm line. "He is not leaving until he sings to his sister!" Karen towed Michael to his sister's bedside. He gazed at the tiny infant losing the battle to live. After a moment, he began to sing.
In the pure-hearted voice of a 3-year-old, Michael sang: "You are my sunshine, my only sunshine, you make me happy when skies are gray ---"
Instantly the baby girl seemed to respond. The pulse rate began to calm down and become steady. "Keep on singing, Michael," encouraged Karen with tears in her eyes. "You never know, dear, how much I love you, Please don't take my sunshine away-"
As Michael sang to his sister, the baby's ragged, strained breathing became as mooth as a kitten's purr. "Keep on singing, sweetheart!!!" "The other night, dear, as I lay sleeping, I dreamed I held you in my arms..." Michael's little sister began to relax as rest, healing rest, seemed to sweep over her. "Keep on singing, Michael." Tears had now conquered the face of the bossy head nurse. Karen glowed. "You are my sunshine, my only Sunshine. Please don't, take my sunshine away..." The next, day...the very next day...the little girl was well enough to go home! Woman's Day Magazine called it "The Miracle of a Brother's Song." The medical staff just called it a miracle. Karen called it a miracle of God's love!

WELCOME TO HOLLAND by Emily Perl Kingsley
I am often asked to describe the experience of raising a child with a disability-to try to help people understand it---to imagine how it would feel. It's like this...
When you're going to have a baby, it's like planning a fabulous vacation trip-to Italy. You buy a bunch of guidebooks and make wonderful plans. The Coliseum, The Michelangelo David. The gondolas of Venice. You may learn some handy phrases in Italian. It's all very exciting.
After months of eager anticipation, the day finally arrives. You pack your bags and off you go. Several hours later, the plane lands. The stewardess comes in and says, "Welcome to Holland."
"HOLLAND?!?" you say. "What do you mean, Holland? I signed up for Italy! I'm supposed to be in Italy.
All my life I've dreamed of going to Italy." But there's been a change in the flight plan. They've landed in Holland and there you must stay.
The important thing is that they haven't taken you to a horrible, disgusting, filthy place, full of pestilence, famine and disease. It's just a different place.
So you must go out and buy new guidebooks. And you must learn a whole new language. And you will meet a whole new group of people you would never have met.
It's just a different place. It's slower-paced than Italy, less flashy than Italy. But after you've been there for a while and you catch your breath, you look around, and you begin to notice that Holland has windmills, Holland has tulips, Holland even has Rembrandts.
But everyone you know is busy coming and going from Italy, and they're all bragging about what a wonderful time they had there. And for the rest of your life, you will say, "Yes that's where I was supposed to go. That's what I had planned."
And the pain of that will never, ever go away, because the loss of that dream is a very significant loss. But if you spend your life mourning the fact that you didn't get to Italy, you may never be free to enjoy the very special, the very lovely things about Holland.

A beautiful true story written by Elizabeth Silance Ballard
There is a story many years ago of an elementary teacher. Her name was Mrs. Thompson. And as she stood in front of her 5th grade class on the very first day of school, she told the children a lie. Like most teachers, she looked at her students and said that she loved them all the same. But that was impossible, because there in the front row, slumped in his seat, was a little boy named Teddy Stoddard.
Mrs.Thompson had watched Teddy the year before and noticed that he didn't play well with the other children, that his clothes were messy and that he constantly needed a bath. And Teddy could be unpleasant. It got to the point where Mrs. Thompson would actually take delight in marking his papers with a broad red pen, making bold X's and then putting a big "F" at the top of his papers. At the school where Mrs. Thompson taught, she was required to review each child's past records and she put Teddy's off until last. However, when she reviewed his file, she was in for a surprise.
Teddy's first grade teacher wrote, "Teddy is a bright child with a ready laugh. He does his work neatly and has good manners...he is a joy to be around."
His second grade teacher wrote, "Teddy is an excellent student, well-liked by his classmates, but he is troubled because his mother has a terminal illness and life at home must be a struggle."
His third grade teacher wrote, "His mother's death has been hard on him. He tries to do his best but his father doesn't show much interest and his home life will soon affect him if some steps aren't taken."
Teddy's fourth grade teacher wrote, "Teddy is withdrawn and doesn't show much interest in school. He doesn't have many friends and sometimes sleeps in class."
By now, Mrs. Thompson realized the problem and she was ashamed of herself. She felt even worse when her students brought her Christmas presents, wrapped in beautiful ribbons and bright paper, except for Teddy's. His present was clumsily wrapped in the heavy, brown paper that he got from a grocery bag. Mrs. Thompson took pains to open it in the middle of the other presents. Some of the children started to laugh when she found a rhinestone bracelet with some of the stones missing and a bottle that was one quarter full of perfume.
But she stifled the children's laughter when she exclaimed how pretty the bracelet was, putting it on, and dabbing some of the perfume on her wrist.
Teddy Stoddard stayed after school that day just long enough to say, "Mrs. Thompson, today you smelled just like my Mom used to."
After the children left she cried for at least an hour. On that very day, she quit teaching reading, and writing, and arithmetic. Instead, she began to teach children. Mrs. Thompson paid particular attention to Teddy. As she worked with him, his mind seemed to come alive. The more she encouraged him, the faster he responded. By the end of the year, Teddy had become one of the smartest children in the the class and, despite her lie that she would love all the children same, Teddy became one of her "teacher's pets."
A year later, she found a note under her door, from Teddy, telling her that she was still the best teacher he ever had in his whole life.
Six years went by before she got another note from Teddy. He then wrote that he had finished high school, second in his class, and she was still the best teacher he ever had in his whole life.
Four years after that, she got another letter, saying that while things had been tough at times, he'd stayed in school, had stuck with it, and would soon graduate from college with the highest of honors. He assured Mrs. Thompson that she was still the best and favorite teacher he ever had in his whole life.
Then four more years passed and yet another letter came. This time he explained that after he got his bachelor's degree, he decided to go a little further. The letter explained that she was still the best and favorite teacher he ever had. But now his name was a little longer. The letter was signed, Theodore F. Stoddard, M.D.
The story doesn't end there. You see, there was yet another letter that spring. Teddy said he'd met this girl and was going to be married. He explained that his father had died a couple of years ago and he was wondering if Mrs. Thompson might agree to sit in the place at the wedding that was usually reserved for the mother of the groom. Of course, Mrs. Thompson did. And guess what? She wore that bracelet, the one with several rhinestones missing. And she made sure she was wearing the perfume that Teddy remembered his mother wearing on their last Christmas together. They hugged each other, and Dr. Stoddard whispered in Mrs. Thompson's ear, "Thank you, Mrs. Thompson, for believing in me. Thank you so much for making me feel important and showing me that I could make a difference."
Mrs. Thompson, with tears in her eyes, whispered back. She said, "Teddy, you have it all wrong. You were the one who taught me that I could make a difference. I didn't know how to teach until I met you."
by Elizabeth Silance Ballard

Home Mathias' Story Photo Album
What is CDH Mahalia's Page Stories & Poems
Links Awards & Rings Guestbook
---
This site was designed with care by AOS
All Precious Moments images were made using tubes and Paint Shop Pro 6.0.